Our Expertise I Anodized Aluminum I Painted Aluminum I Stainless Steel I Brass I Proven Solutions
Client Case Studies: 1-100 I Before & After Photo Gallery I Client Testimonials I Contact York Property Co.

Case Study 93 - Repairing Damaged Anodized Aluminum & Anodized Aluminum Restoration Consulting
Condition:

During Hurricane Katrina the black metal metal finishes on this commercial building in New Orleans, Louisiana were scratched, dented and damaged by wind driven airborne particulate and debris. The black metal doors, metal storefront and metal window frames were scratched, marred, scuffed, dull and faded as the wind driven debris abraded the surface of the anodized aluminum metal finishes.



York Property Company Solution:

Working with Zurich Insurance we were able to ascertain what anodized aluminum metal damage was hurricane related and what was general weathering - metal color fading, metal finish oxidation, metal surface corrosion, metal pitting and metal staining. With our oxidized anodized aluminum refinishing and scratched metal restoration expertise our metal surface analysis and metal repair specification allowed Zurich Insurance to settle with the buildings owner to clean, refinish and restore the specified metal surfaces.
Contact us today at

610.442.2131

for nationwide service in the United States & Canada.
>>
More
Anodized Aluminum Cleaning, Refinishing & Restoration Case Studies
here.
<<

"

York Property Company

are experts at metal restoration. They really helped me on a large loss that I had with Zurich."

"The insured was at $330,000.00 on replacing the metal and their technical advisor came in with the cause and a solution. We are now going to clean the metal for a proposed number of just under $30,000.00. Very nice and extremely knowledgeable."


Executive General Adjuster, Zurich North America
>>
More York Property Company
Client Testimonials
here.
<<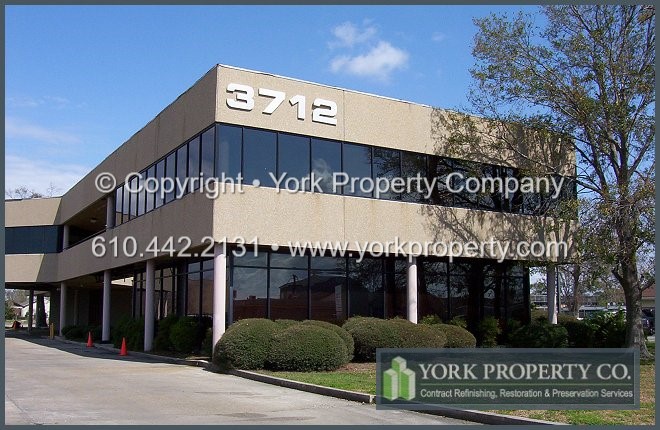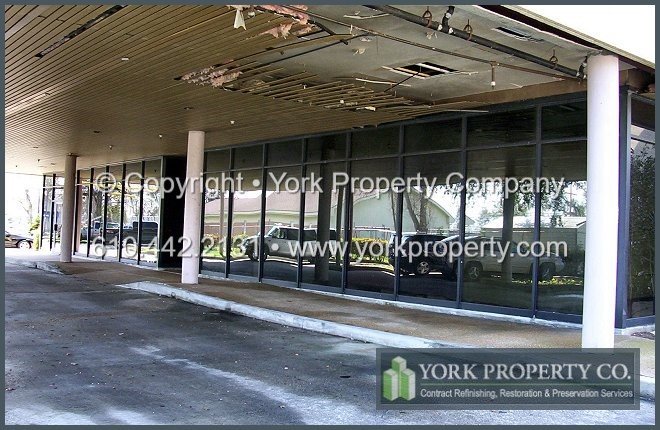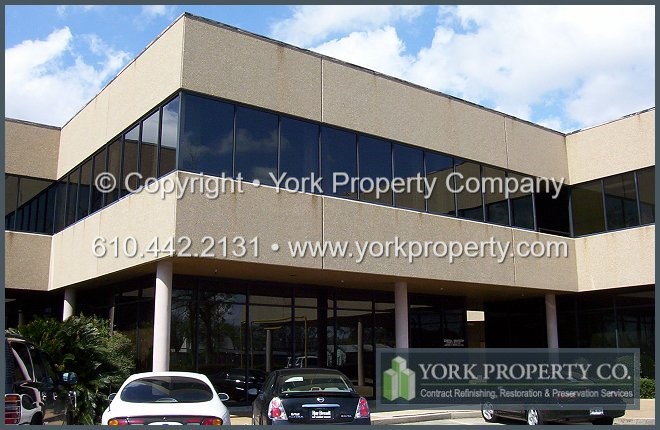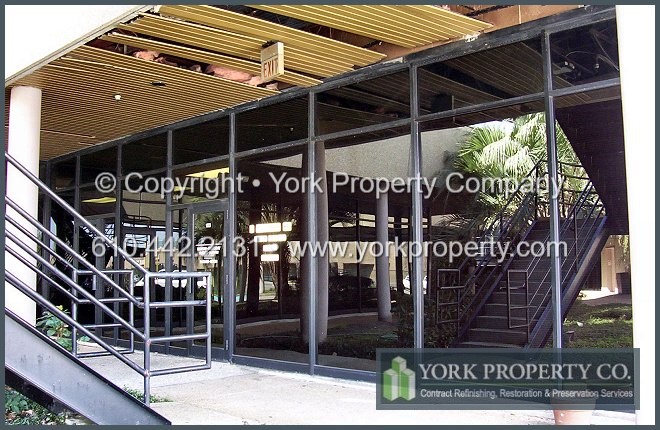 >>
View the York Property Company
Before & After Photo Gallery
here.
<<
York Property Company

provides high quality dull & faded anodized aluminum cleaning, abraded metal refinishing, scratched metal restoration & wind damaged metal maintenance solutions. Our highly trained company technician's clean, repair, refinish & restore architectural metal surface finishes on-site.

With every metal restoration project we analyze the needs of our customers & develop a comprehensive metal maintenance program. This custom metal maintenance program ensures our clients architectural metal finishes remain looking their best for years to come.

Contact us today at

610.442.2131

and request an analysis of your buildings damaged, scratched, discolored, oxidized, pitted and stained exterior black anodized aluminum storefront window frame metal finishes. We will provide you a metal scratch removal, black anodized aluminum finish repair and black metal remedial maintenance cleaning recommendation.

United States:

Alabama, Alaska, Arizona, Arkansas, California, Colorado, Connecticut, Delaware, Florida, Georgia, Hawaii, Idaho, Illinois, Indiana, Iowa, Kansas, Kentucky, Louisiana, Maine, Maryland, Massachusetts, Michigan, Minnesota, Mississippi, Missouri, Montana, Nebraska, Nevada, New Hampshire, New Jersey, New Mexico, New York, North Carolina, North Dakota, Ohio, Oklahoma, Oregon, Pennsylvania, Rhode Island, South Carolina, South Dakota, Tennessee, Texas, Utah, Vermont, Virginia, Washington, West Virginia, Wisconsin & Wyoming.
Canada:

Alberta, British Columbia, Manitoba, Ontario, Quebec & Saskatchewan.

Home Page I Our Expertise I Anodized Aluminum I Painted Aluminum I Stainless Steel
Proven Solutions I Client Case Studies I Client Testimonials I Contact York Property Co.


York Property Company Inc. © 2020 I Precision Metal Restoration at the Right Price.