Our Expertise I Anodized Aluminum I Painted Aluminum I Stainless Steel I Brass I Proven Solutions
Client Case Studies: 1-100 I Before & After Photo Gallery I Client Testimonials I Contact York Property Co.

Case Study 84 - Restoring Dirty & Silicone Caulking Stained Metal Clad Panels
Condition:

The clear metal panels on the exterior of the VA Hospital in the Bronx, New York had degraded from forty years of exposure to airborne and waterborne contaminants. The metal clad panels were dirty, stained and discolored showing its age. The petroleum-based window gaskets and silicone caulking had degraded leaching an oily residue on the surface of the clear metal. Until management worked with us, they could not find anyone to clean, refinish and restore the damaged metal building facade panels. Our client, the United States Department of Veterans Affairs, wanted the silver colored anodized aluminum clad building clean, restored and the black stains and silicone caulking residue removed.



York Property Company Solution:

We worked with a Consulting Engineer on the metal surface damage analysis and the correct metal cleaning and refinishing specification for the cleaning and restoration of the clear metal panels. The dirty and stained metal cleaning posed many challenges. As the building is a hospital, we had to be sensitive to the doctors and patients within and around the facility. Our metal refinishing expertise allowed our technicians to clean and restore the silver colored metal surface finishes. The metal spray applied protective lacquer coating sealed the pores of the anodic finish. The anodized aluminum finish now has the original sheen, natural color and luster.

Contact us today at

888.351.3682

for nationwide service in the United States & Canada.
>>
More
Anodized Aluminum Cleaning, Refinishing & Restoration Case Studies
here.
<<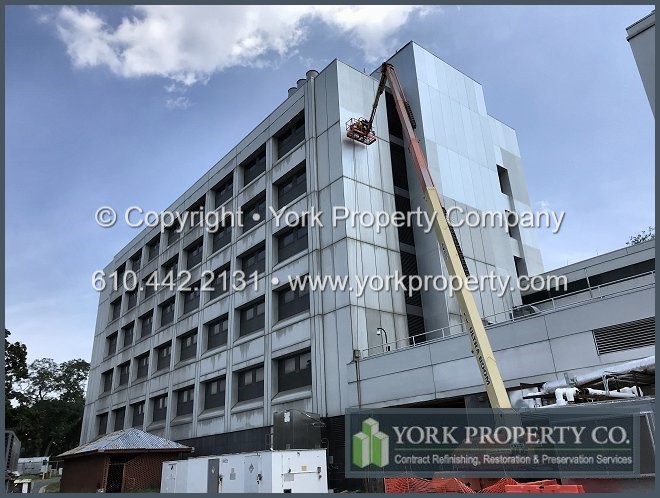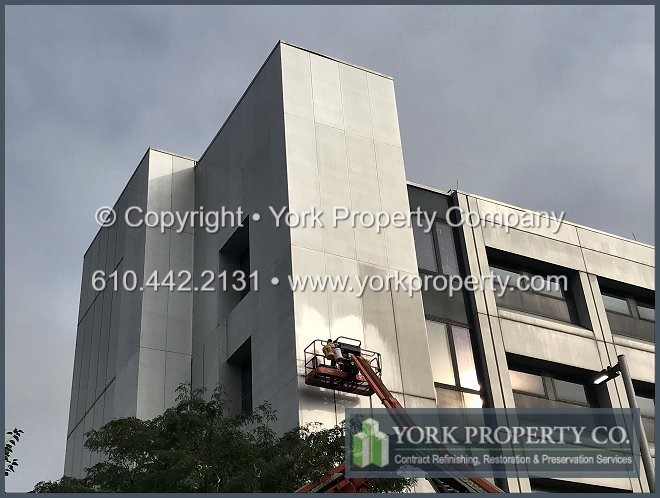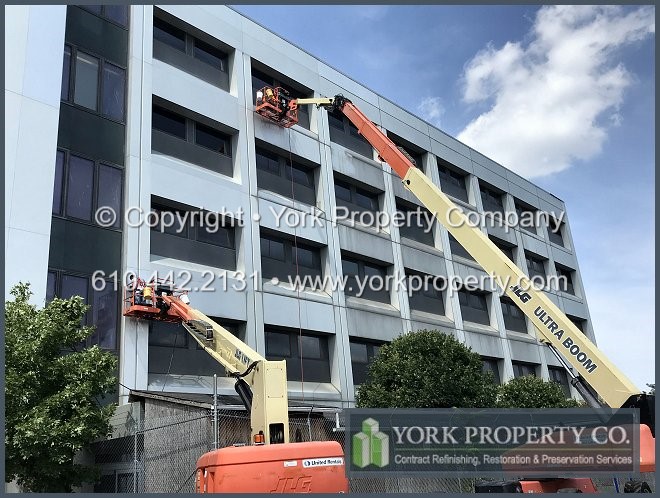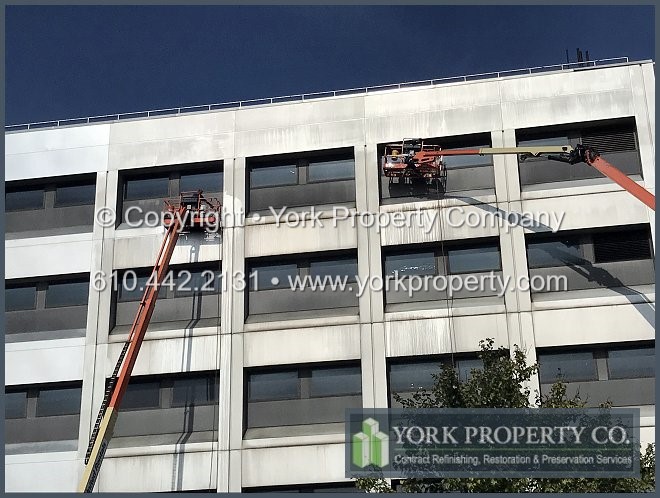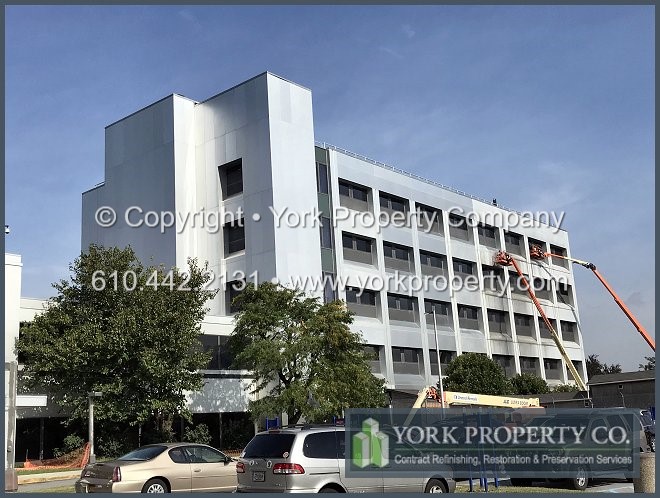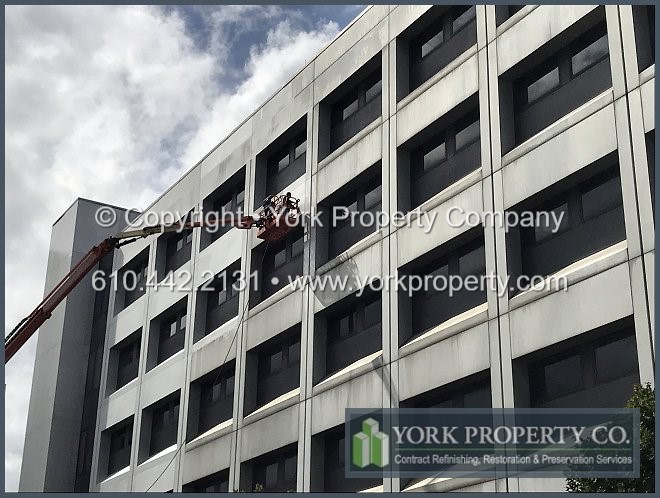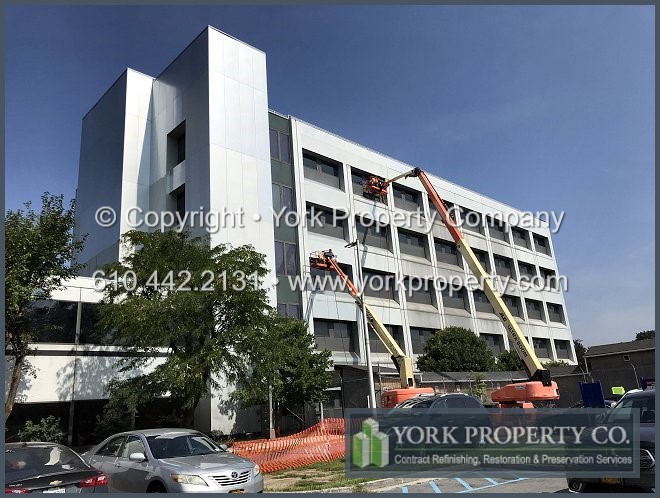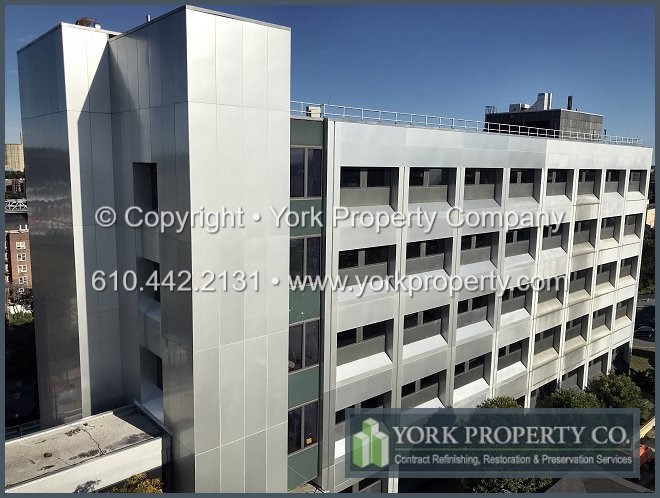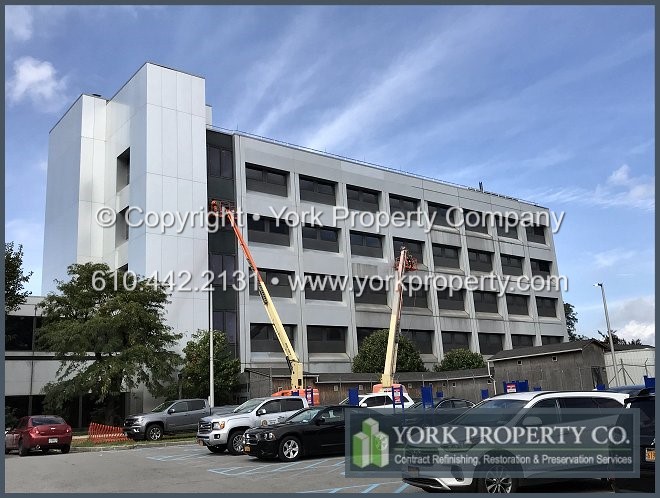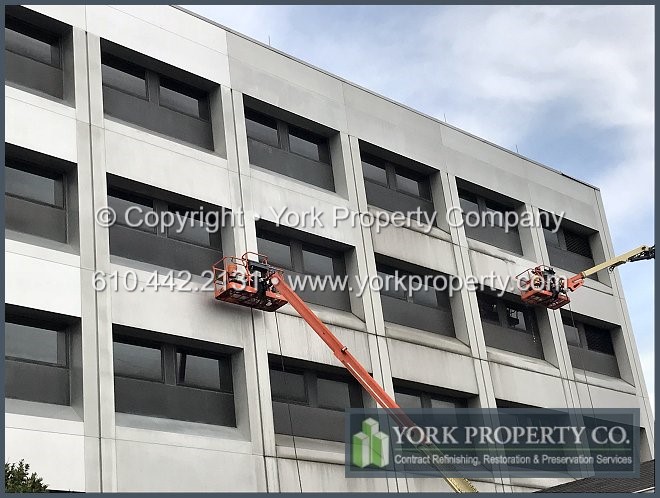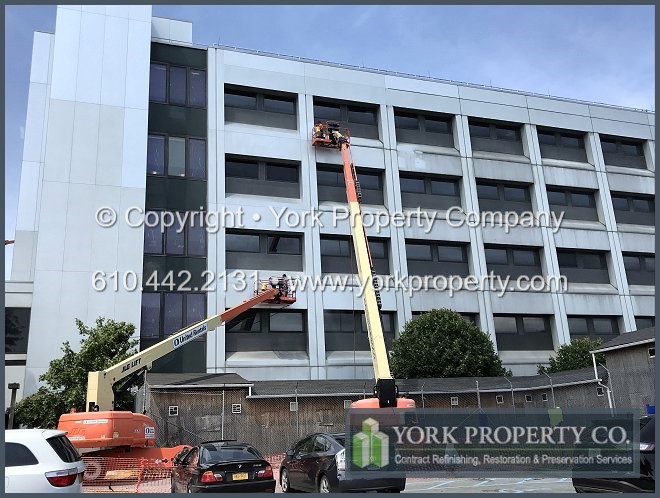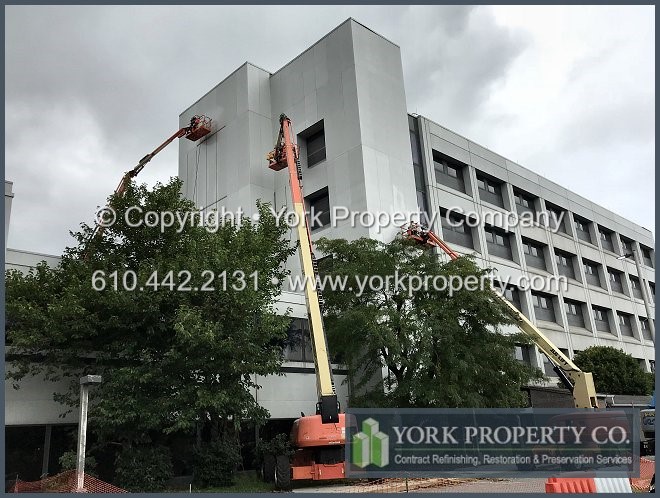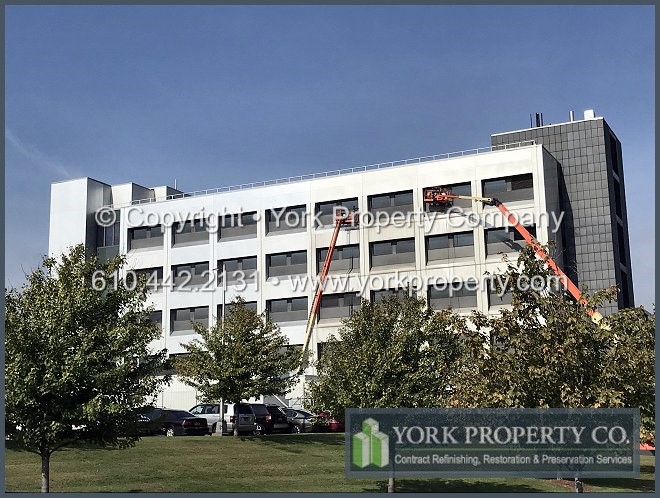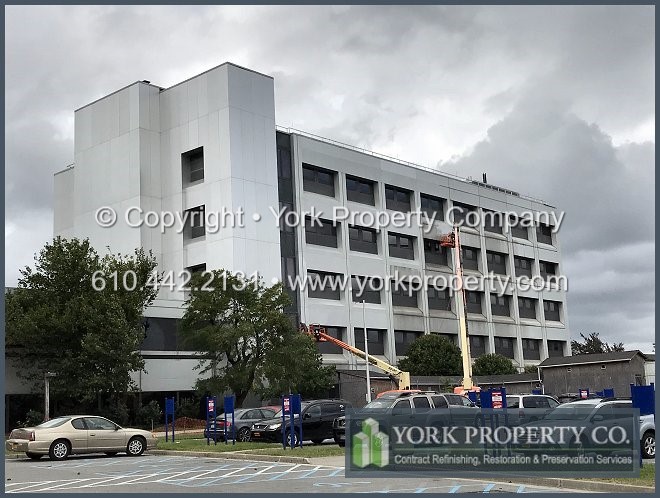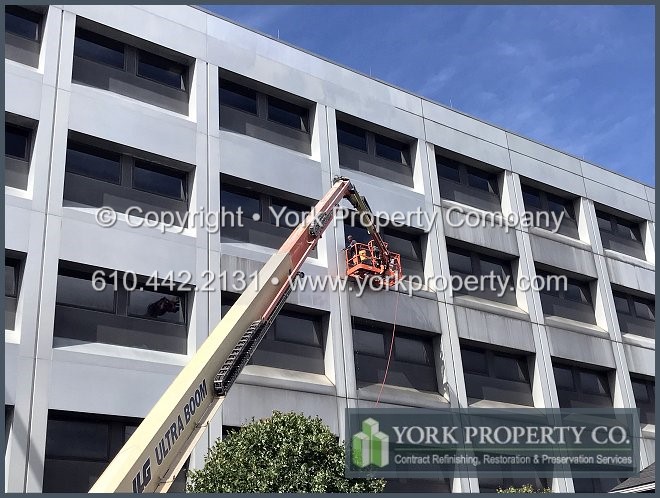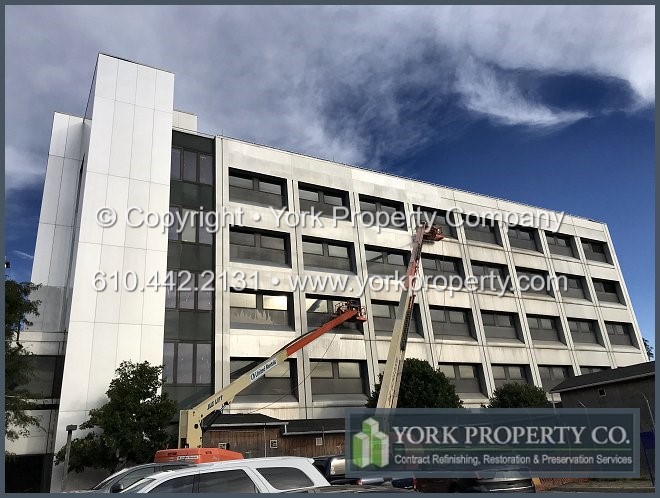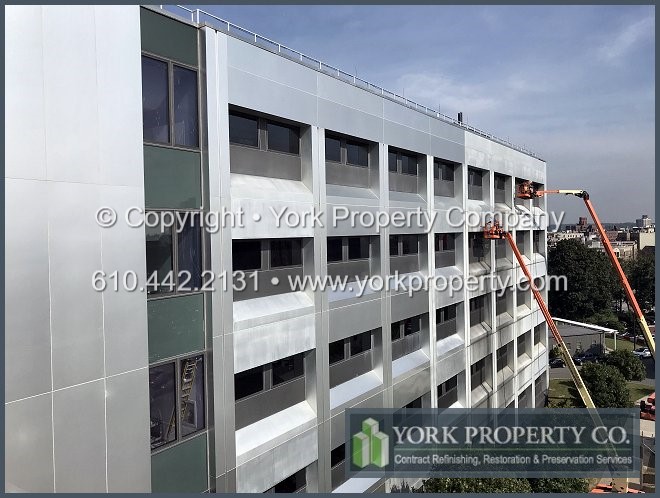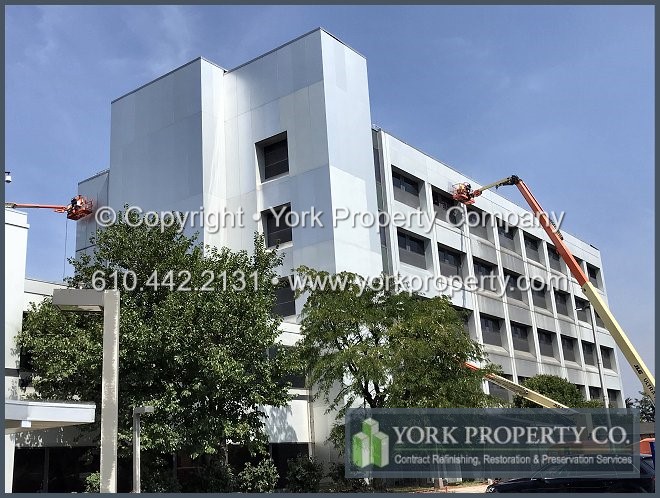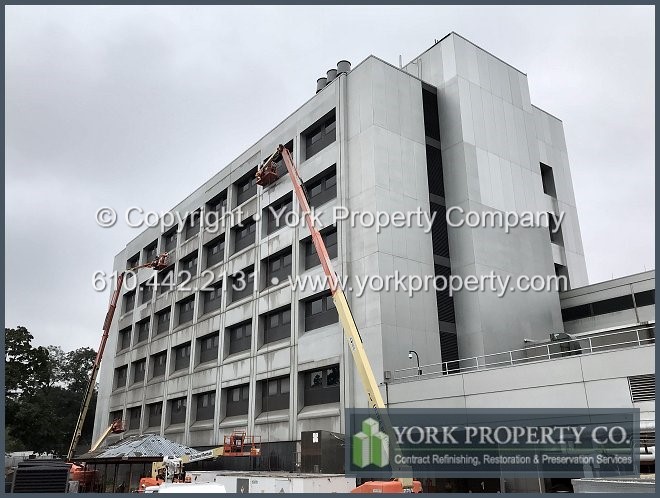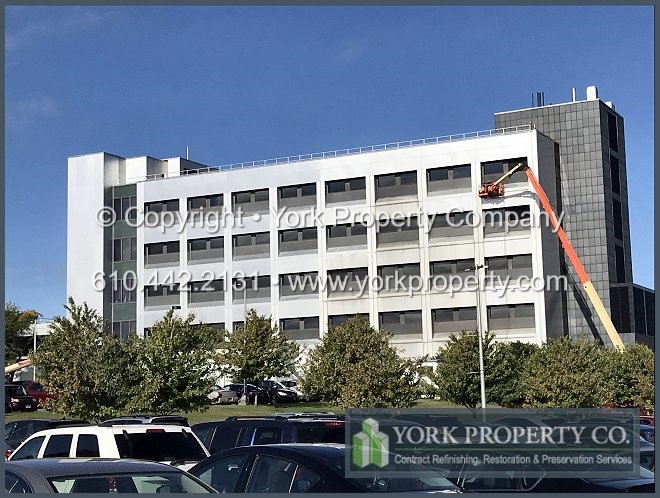 >>
View the York Property Company
Before & After Photo Gallery
here.
<<
York Property Company

provides high quality stained metal panel cleaning, oxidized metal window frame refinishing, sun damaged & weathered anodized aluminum restoration & Duranodic metal maintenance solutions. Our highly trained company technician's clean, repair, refinish & restore architectural metal surface finishes on-site.

With every metal restoration project we analyze the needs of our customers & develop a comprehensive metal maintenance program. This custom metal maintenance program ensures our clients architectural metal finishes remain looking their best for years to come.

Contact us today at

888.351.3682

and request an analysis of your buildings silicone stained, discolored, uneven and weathered exterior anodized aluminum clad paneling and metal window frames. We will provide you a cost-saving sun damaged metal cleaning, discolored metal refinishing and oxidized metal restoration recommendation.


Home Page I Our Expertise I Anodized Aluminum I Painted Aluminum I Stainless Steel
Proven Solutions I Client Case Studies I Client Testimonials I Contact York Property Co.


York Property Company Inc. © 2017 I Precision Metal Restoration at the Right Price.