Our Expertise I Anodized Aluminum I Painted Aluminum I Stainless Steel I Brass I Proven Solutions
Client Case Studies: 1-100 I Before & After Photo Gallery I Client Testimonials I Contact York Property Co.

Case Study 33 - Oxidized & Acid Etched Metal Curtain Wall Cleaning & Refinishing
Condition:

The clear metal curtain wall panels on this Class "A" office building were acid etched when mortar and lime residue leaked onto the unprotected metal surface finishes. An anodized aluminum construction cleaning contractor used an acid wash to remove the white stains which further etched the metal anodic skin on the aluminum. The acid wash flash oxidized, chemically etched and acid burned all of the metal window frames and silver colored metal paneling.



York Property Company Solution:

As acid etched metal cleaning, chemical burned metal refinishing and oxidized anodized aluminum restoration experts we were contracted to work on the project. To clean, restore and protect the metal curtain wall panels we used our metal mortar and lime etching removal and metal restoration system. The metal surfaces are now clean, repaired, refurbished and protected from the sun, weather and further damage.
Contact us today at

610.442.2131

for nationwide service in the United States & Canada.
>>
More
Anodized Aluminum Construction Cleaning & Refinishing Case Studies
here.
<<

"Thank you for the fine job you did in restoring the finish on the anodized aluminum bands at our project in Dale City, Virginia. Prior to your arrival, we were concerned that the metal panels could not be restored to a satisfactory appearance and would have to be replaced."

"Your workmanship and attention to detail were excellent and the building owner was very satisfied with the final product. We will not hesitate to use or recommend

York Property Company

for any similar type project in the future.


Vice President Construction, Jack Bays, Inc.
>>
More York Property Company
Client Testimonials
here.
<<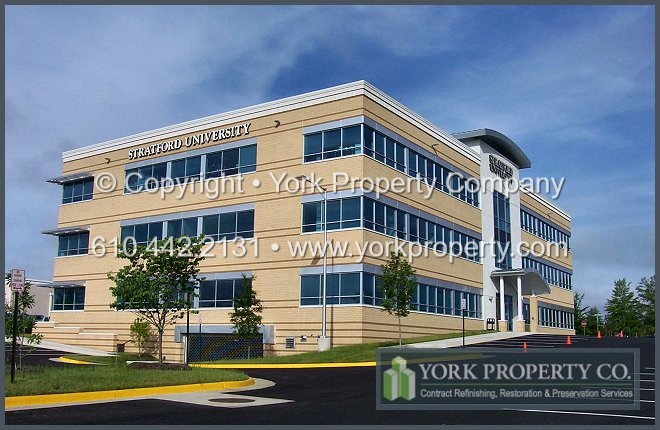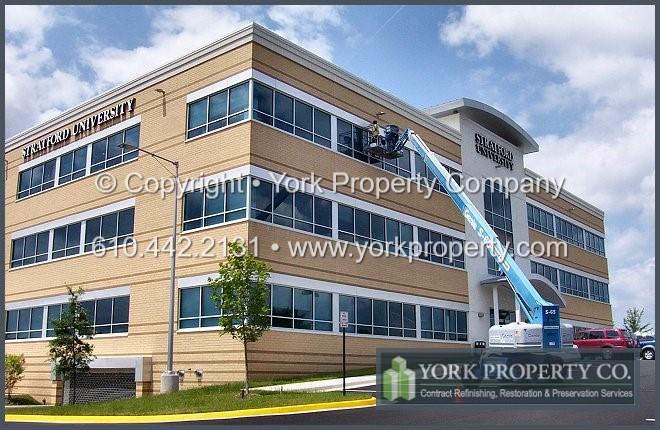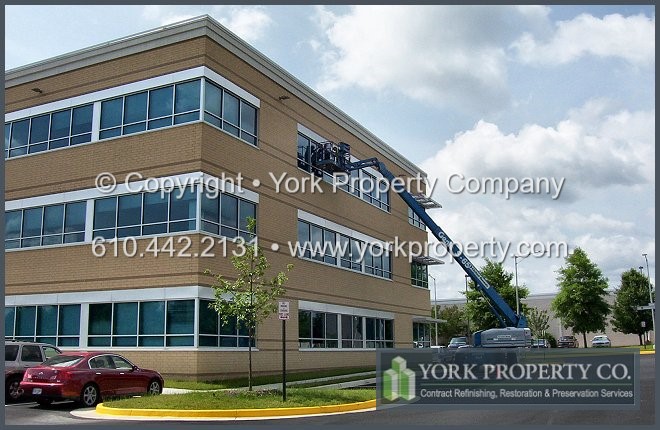 | | | |
| --- | --- | --- |
| Stained & oxidized metal panels. | | Clean & restored metal panels. |
| | | |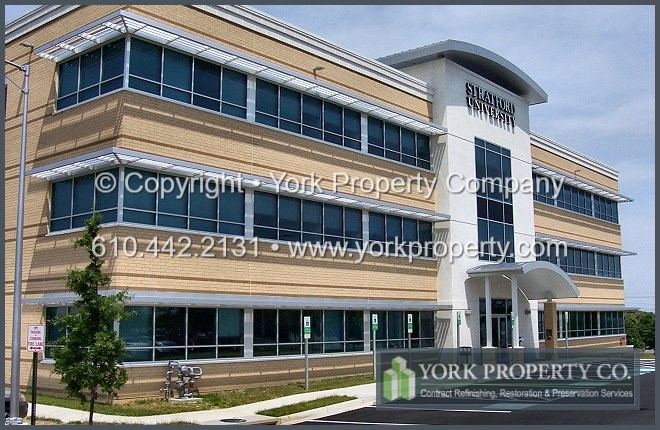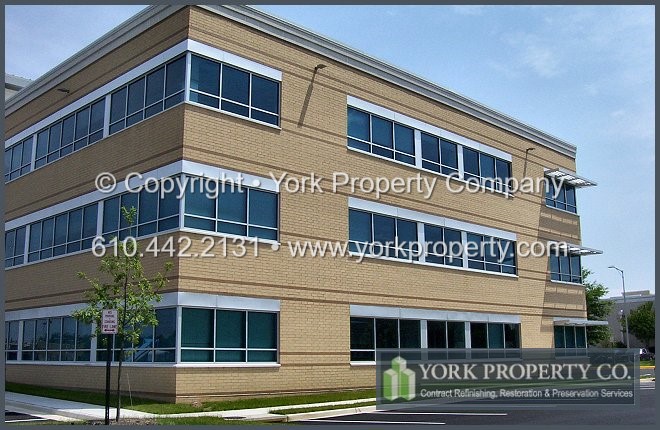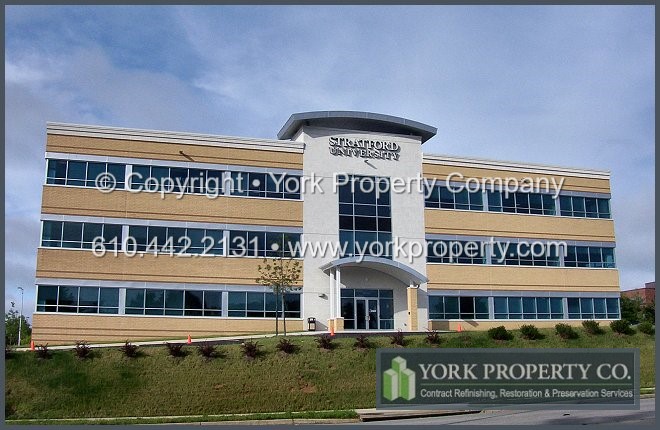 >>
View the York Property Company
Before & After Photo Gallery
here.
<<
York Property Company

provides high quality etched & discolored metal cleaning, mortar stained metal refinishing, lime etched anodized aluminum restoration & acid wash damaged metal maintenance solutions. Our highly trained company technician's clean, repair, refinish & restore metal architectural metal surface finishes on-site.

With every metal restoration project we analyze the needs of our customers & develop a comprehensive maintenance program. This custom metal maintenance program ensures our clients architectural metal metal finishes remain looking their best for years to come.

Contact us today at

610.442.2131

and request an analysis of your commercial buildings acid etched, concrete contaminated and chemical stained anodized aluminum clad paneling. We will provide you a cost-saving acid burned metal cleaning, oxidized lime etched metal refinishing, surface damaged metal maintenance and exterior clear metal restoration recommendation.

United States:

Alabama, Alaska, Arizona, Arkansas, California, Colorado, Connecticut, Delaware, Florida, Georgia, Hawaii, Idaho, Illinois, Indiana, Iowa, Kansas, Kentucky, Louisiana, Maine, Maryland, Massachusetts, Michigan, Minnesota, Mississippi, Missouri, Montana, Nebraska, Nevada, New Hampshire, New Jersey, New Mexico, New York, North Carolina, North Dakota, Ohio, Oklahoma, Oregon, Pennsylvania, Rhode Island, South Carolina, South Dakota, Tennessee, Texas, Utah, Vermont, Virginia, Washington, West Virginia, Wisconsin & Wyoming.
Canada:

Alberta, British Columbia, Manitoba, Ontario, Quebec & Saskatchewan.

Home Page I Our Expertise I Anodized Aluminum I Painted Aluminum I Stainless Steel
Proven Solutions I Client Case Studies I Client Testimonials I Contact York Property Co.


York Property Company Inc. © 2020 I Precision Metal Restoration at the Right Price.