Our Expertise I Anodized Aluminum I Painted Aluminum I Stainless Steel I Proven Solutions
Client Case Studies: 1-100 I Before & After Photo Gallery I Client Testimonials I Contact York Property Co.

Case Study 71 - Anodized Aluminum Water Damage Construction Cleaning and Restoration
Condition:

The clear anodized aluminum curtain wall window frames, balcony doors and mullions on this Houston, Texas luxury condominium were stained, discolored and water damaged during construction. The anodized aluminum metal curtain wall system leaked allowing rain water to leach through the concrete floor slab depositing lime, whitish calcium and gray acidic mineral deposits on the anodized aluminum window frames as the rain water dried on the interior and exterior metal finishes. The oxidized anodized aluminum new construction window frames, sliding doors and siding clad panels had to be cleaned, repaired, refinished and restored to like new condition.



York Property Company Solution:

The G.C. required us to remove the hard water stains, white calcium deposits, waterborne contaminants and the acidic mineral deposit residue from the anodized aluminum. These corrosive deposits had stained, acid etched and oxidized the anodized aluminum metal surfaces. On-site we got the dried on hard water stains and deposits off the anodized aluminum finish. We refurbished, reconditioned and restored the water damaged anodized aluminum curtain wall window frame and mullion extrusions as if they had not been stained, blemished or damaged. The clear anodized aluminum window frames looked renewed and clean when the anodized aluminum repair, renovation and restoration was complete.
Contact us today at

610-442-2131

for nationwide service in the United States and Canada.
>>
More
Anodized Aluminum Construction Cleaning and Refinishing Case Studies
here.
<<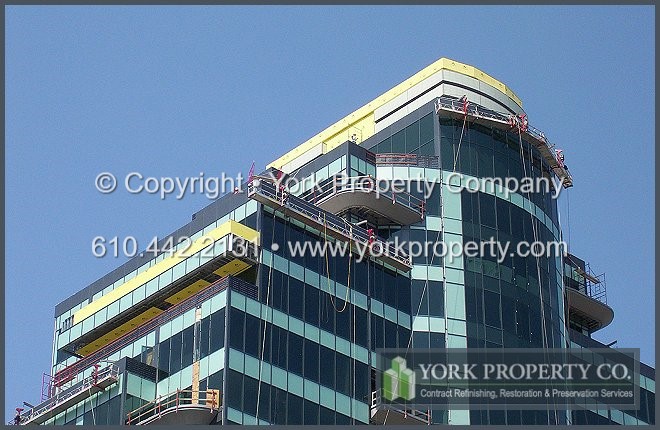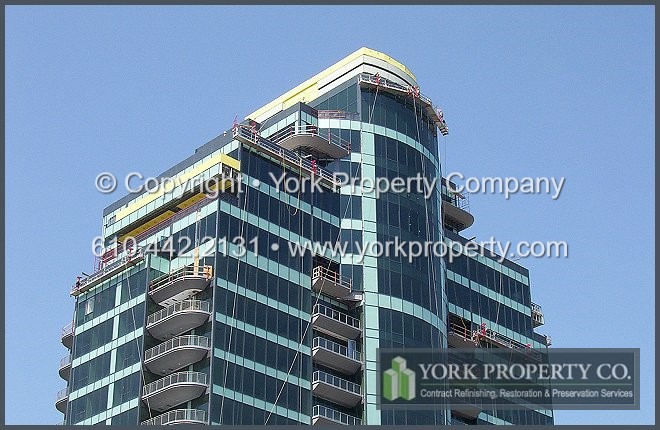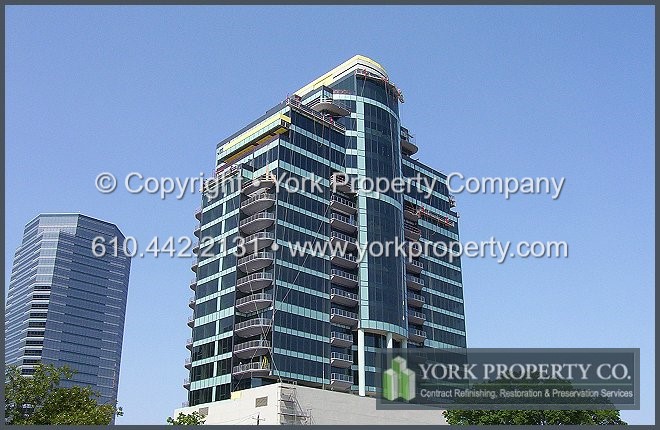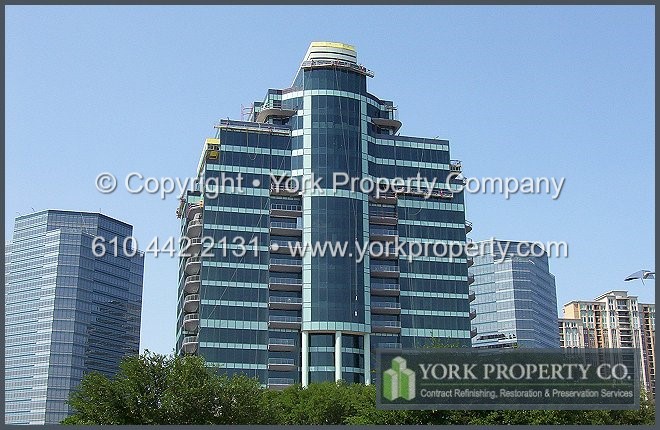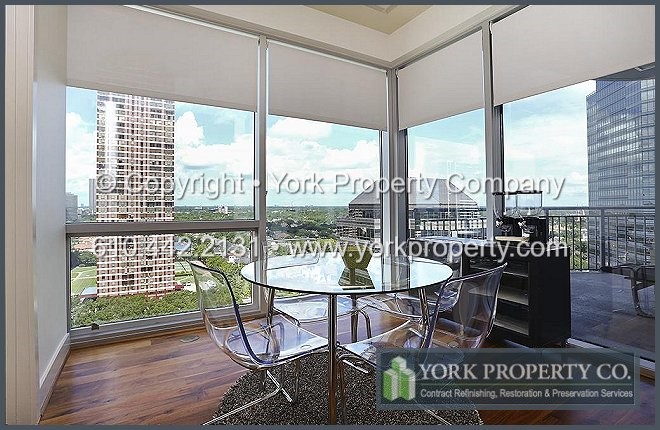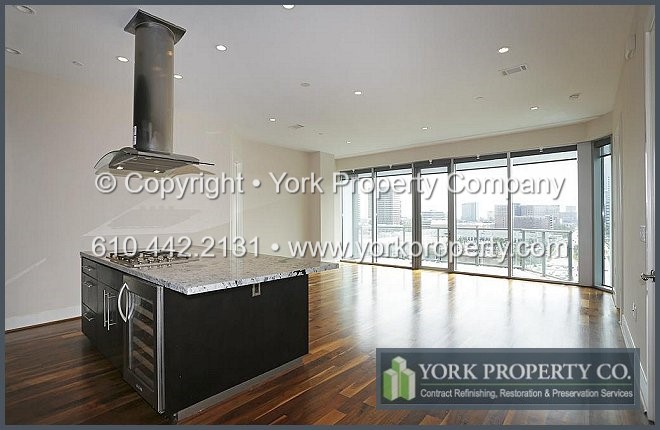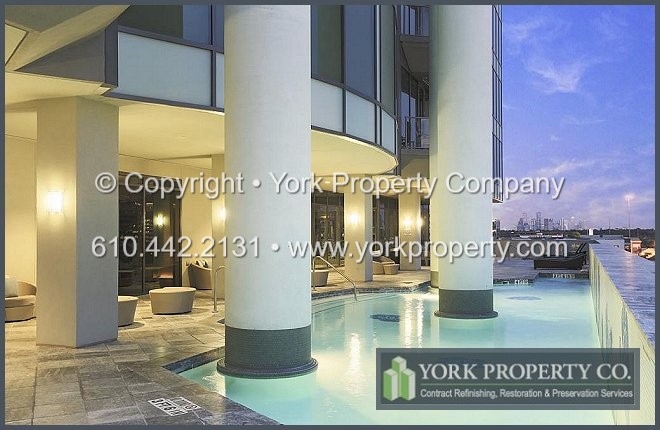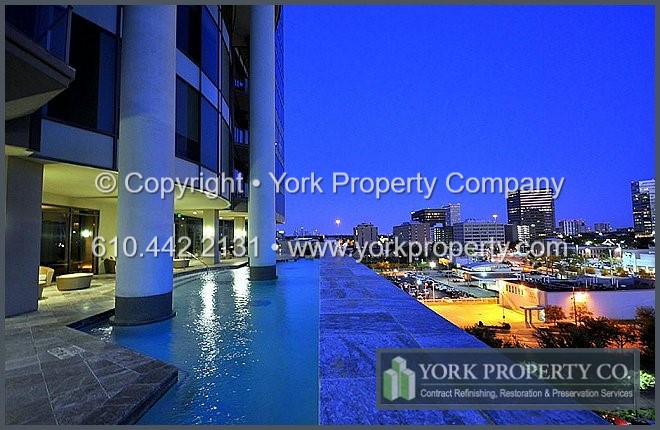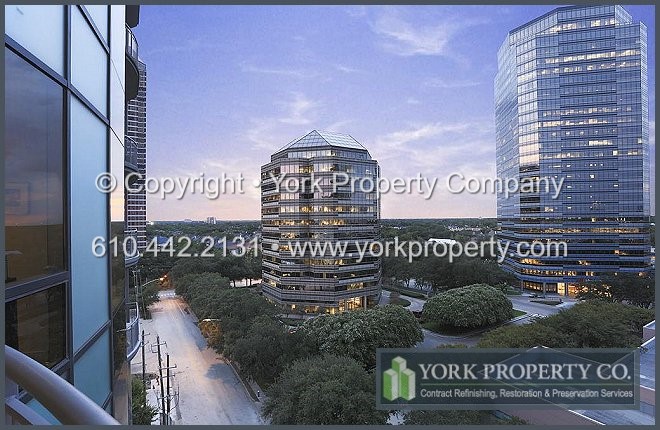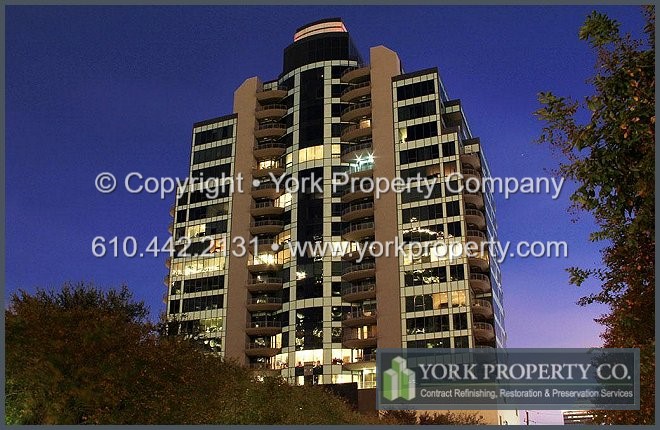 >>
View the York Property Company
Before & After Photo Gallery
here.
<<
York Property Company

provides high quality water damaged anodized aluminum cleaning, hard water stained anodized aluminum refinishing, acidic mineral deposit stained anodized aluminum restoration and post construction anodized aluminum maintenance solutions. Our highly trained company technicians clean, repair, refinish and restore anodized aluminum architectural metal surface finishes on-site.
Contact us today at

610-442-2131

and request an analysis of your luxury residential condominium's exterior hard water stained anodized aluminum window frames. We will provide you an anodized aluminum efflorescence removal, anodized aluminum calcium deposit removal and discolored anodized aluminum water damage restoration recommendation.

United States:

Alabama, Alaska, Arizona, Arkansas, California, Colorado, Connecticut, Delaware, Florida, Georgia, Hawaii, Idaho, Illinois, Indiana, Iowa, Kansas, Kentucky, Louisiana, Maine, Maryland, Massachusetts, Michigan, Minnesota, Mississippi, Missouri, Montana, Nebraska, Nevada, New Hampshire, New Jersey, New Mexico, New York, North Carolina, North Dakota, Ohio, Oklahoma, Oregon, Pennsylvania, Rhode Island, South Carolina, South Dakota, Tennessee, Texas, Utah, Vermont, Virginia, Washington, West Virginia, Wisconsin and Wyoming.
Canada:

Alberta, British Columbia, Manitoba, Ontario, Quebec and Saskatchewan.

York Property Company Inc. © 2020 I Precision Anodized Aluminum Restoration at the Right Price.