Our Expertise I Anodized Aluminum I Painted Aluminum I Stainless Steel I Brass I Proven Solutions
Client Case Studies: 1-100 I Before & After Photo Gallery I Client Testimonials I Contact York Property Co.

Case Study 54 - Stained, Faded & Oxidized Anodized Aluminum Building Facade Cleaning & Refinishing
Condition:

This thirty-seven year old industrial building in Houston, Texas had dirty smog stained clear anodized aluminum building facade metal panels, stained anodized aluminum doors and faded black anodized aluminum window frames due to continuous exposure to the South Texas environment of heat, humidity, sun and u.v. exposure which caused the panels to age, deteriorate and bleach considerably. The exterior stained, sun faded, dull and oxidized natural colored anodized aluminum panels, window frames and doors looked dirty, prematurely old and no longer clean. Facility management requested that the anodized aluminum be cleaned, refurbished and protected from further damage.



York Property Company Solution:

This specific anodized aluminum restoration project had many challenges as the industrial building was a depot for a large furniture manufacturing company and at all times during the day all fifty-two loading bays were in use. The exterior anodized aluminum building components were cleaned, repaired and restored with our sun damaged exterior anodized aluminum cleaning and oxidized anodized aluminum refinishing system. The silver metallic Alucobond anodized aluminum was restoration cleaned and the metal panels were coated with the specified clear protective coating. With the anodized aluminum surfaces now clean, the coating will preserve and protect the anodic layer from airborne and waterborne contaminants, sun and u.v. exposure and all around general corrosive weathering.
Contact us today

888.351.3682

for nationwide service in the United States & Canada.
>>
More
Anodized Aluminum Cleaning, Refinishing & Restoration Case Studies
here.
<<

"Thank you for the magic you did on the hopeless condition of the clear anodized aluminum facade on our two buildings here in Houston, Texas. Not only are we pleased with the results of the cleaning and finishing of the facade but we want to extend our appreciation and thanks to you and your crew that did an impossible job working around the trucks, ramps, dumpsters and the outside concrete repair contractor. It was a pleasure to see the effort and co-ordination that you put forth to keep our tenants and the other contractor on the job working together and happy to do whatever it took to do a professional job."

"We could not find anyone that could
restore
our anodized aluminum facade. The only recommendation that we had was to
paint
the anodized aluminum facade. The president of our company refused to have the anodized aluminum buildings painted because of continuous maintenance - in fact we were going to replace the entire anodized aluminum facade unless we could find someone to do the proper job of anodized aluminum restoration. We cannot thank you enough not only for your performance but also your ability to return our anodized aluminum to its original beauty and luster."


Vice President, Amega Corporation
>>
More York Property Company
Client Testimonials
here.
<<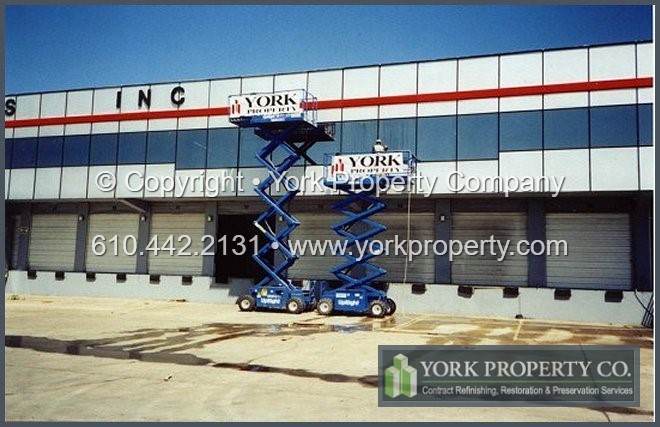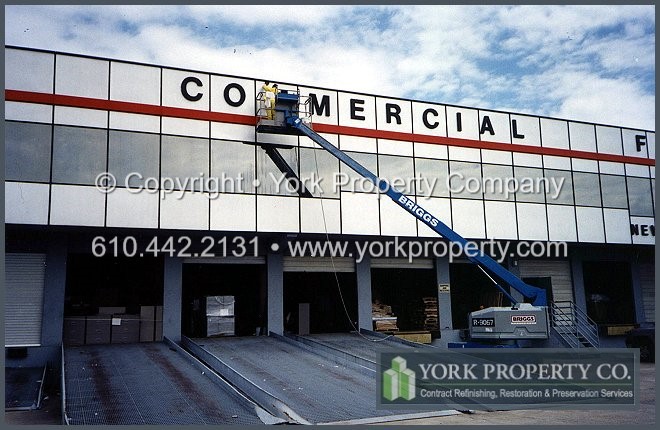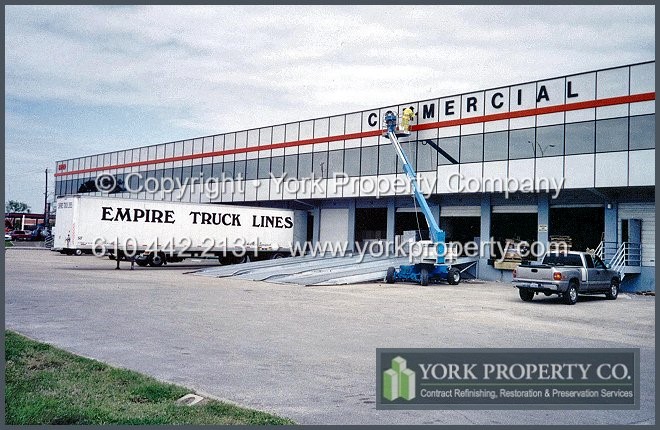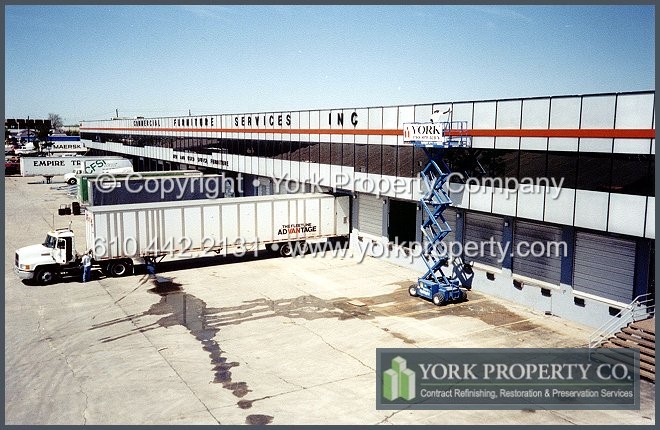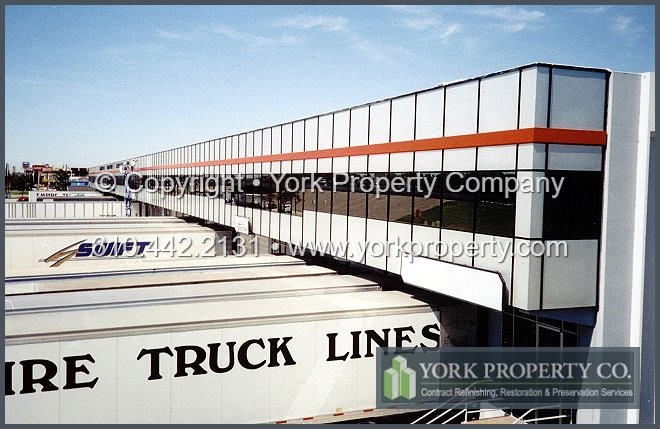 >>
View the York Property Company
Before & After Photo Gallery
here.
<<
York Property Company

provides high quality acid stained anodized aluminum cleaning, corrosive oxidation anodized aluminum refinishing, scratched anodized aluminum restoration & pollution contaminated anodized aluminum maintenance solutions. Our highly trained company technician's clean, repair, refinish & restore anodized aluminum architectural metal surface finishes on-site.

With every anodized aluminum restoration project we analyze the needs of our customers & develop a comprehensive maintenance program. This custom anodized aluminum maintenance program ensures our clients architectural anodized aluminum metal finishes remain looking their best for years to come.

Contact us today at

888.351.3682

and request an analysis of your buildings stained, dirty and old anodized aluminum clad spandrel paneling. We will provide you a cost-saving weathered anodized aluminum protection, sun damaged anodized aluminum restoration and pitted anodized aluminum preservation recommendation.


Home Page I Our Expertise I Anodized Aluminum I Painted Aluminum I Stainless Steel
Proven Solutions I Client Case Studies I Client Testimonials I Contact York Property Co.


York Property Company Inc. © 2017 I Precision Anodized Aluminum Restoration at the Right Price.